Fuxion Media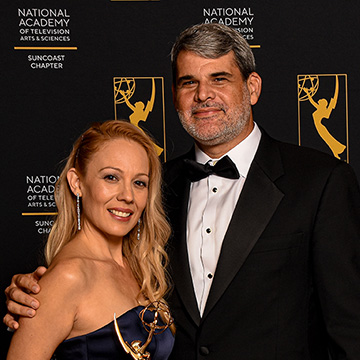 Fuxion Media is a full service creative content company with over twenty years of experience producing high quality film, video and digital media content for network broadcast, advertising and social media platforms.
The founders of Fuxion Media are Producer/Director Scott Barnett and Executive Producer Johanna Vega, Scott is a native Floridian and enjoys exploring Florida's rich multicultural history with previous documentaries including "Himmarshee, The History of Fort Lauderdale's New River" and "Osceola's Journey" a film about the life of one of the state's most iconic figures. Scott also produces creative content for VISITFLORIDA with diverse formats that stretch across the full breadth of contemporary media including narrative documentaries, aerial photography and even 360 degree and underwater videos. Scott is a registered FAA UAV pilot and certified PADI SCUBA diver. Johanna Vega has worked as a producer for over twenty years supervising hundreds of TV commercials and broadcast programs as well as live experiential productions. Recent work includes live virtual concerts, wellness videos for NOAA and work for non-profit agencies such as Unicef and the World Health Organization.
Recent work for Fuxion includes the national production for James Patterson's Kid Stew TV program for children with South Florida PBS, Commercials for clients including Winn Dixie, AT&T, 9 Round, Cobalt Boats, Johnson & Johnson, Carnival Cruiselines, Lee County Tourism, Pepsi as well as vertical integration of social media content for VISITFLORIDA, TAKEMEFISHING.ORG, and The Pork Board.